India isfamed for its diversity. Apart from cultures, languages, attire, diversity can be seen in the places as well. India is rich in terms of splendid history, forts, flora and fauna, varied beaches, deserts, forests and also beautiful rivers, lakes and backwaters. But if you have just 10 days in India, prioritize your interests and then decide on which area to explore. Here is a crisp guide considering the top options!
1.Jammu and Kashmir tour: Nature's Peerless beauty and delectable food!
Route blueprint: Srinagar-Sonmarg- Gulmarg- Pahalgam- Katra- Jammu
If You have only 10 days in India, You will need to get over the inhibitions of terrorism and security concerns and once you make your mind, you can land in the Paradise of India. You will be mesmerized by the scenic beauty and equally beautiful hearts of the local people. You can look forward to staying on house boat and having a Shikara ride in Shrinagar. Don't forget to taste 'Kehwa' and buy genuine 'kesar'. Enjoy the panorama of beautiful mountains and greenery in Pahalgam. Enjoy the Gondola ride to Sonmarg and Gulmarg and activities like skiing and para gliding in snow. If you are a spiritualist, visit to Mata Vaishnodevi temple will be a soul cleansing experience!
2. Kerala Tour: God's own land!
Route blueprint: Cochin – Munnar – Periyar – Kumarakom – Alleppey – Kovalam
Kerala is famous for its backwaters, immaculate beaches, vibrant temples, beautiful tea gardens and also a palatable cuisine which includes the authentic idli, dosa, rassam and sambar and lots of rice. This place deserves a dedicated tour 10 days in India as there is a lot to explore from intense sightseeing in Cochin to Periyar wild life sanctuary to beautiful backwaters of Alleppey to Kumarakom Bird Sanctuary. Don't give the traditional Kathakali dance performance a miss!
3. Tour dedicated to forts and palaces: Glorify their splendor!
Route blueprint: Delhi – Mandawa – Bikaner – Jaisalmer – Jodhpur – Ranakpur – Udaipur – Pushkar – Jaipur – FatehpurSikri – Agra-Delhi
If You have only 10 days in India, and you are a history connoisseur, begin your journey from Delhi that includes a visit to Humayu's tomb, QutubMinar, Red fort and then proceed to Rajasthan to appreciate the majestic palaces and forts. Rajasthan boasts of its rich culture and traditions. In Jaisalmer, you can enjoy camel ride in the desert. The placid boat ride in Udaipur also awaits you! Feel the love around when you arrive at the Monument of love- Taj Mahal! As far as food is concerned, Parathas in Delhi and Dal baatichurma offered in Rajasthan are bound to set your taste buds alive.
4. Spiritual tour: Discover the true 'you'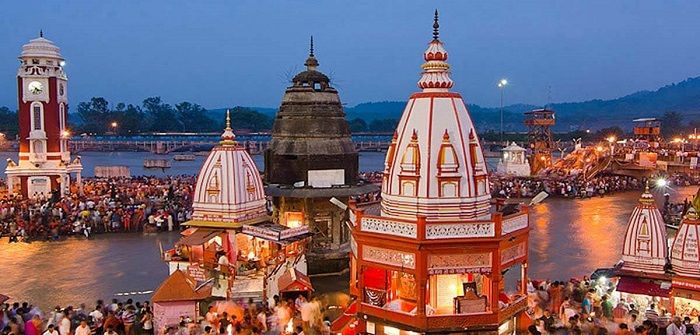 Route blueprint: Delhi – Haridwar – Rishikesh – Shivpuri – Delhi
10 days in India is eternally sought after for spirituality. People come here looking for peace and understanding the true meaning of life. Experience tranquility in this land of Yoga. Explore the ashrams in Rishikesh, take a holy dip in river Ganga at Haridwar, travel around the reserve forests in Shivpuri and immerse yourself in Yoga to attain that perfect balance of body, mind and soul!
5. Go Goa: Beaches, Sun-tan, and seafood are calling!
Route blueprint: Panjim- North Goa- South Goa
If You have only 10 days in India, Panjim will welcome you with lively cruises, beautiful churches and lot of cashew-nuts. North Goa has some famous beaches like Baga, Calangute and Anjuna. The places are known for booze, parties and of course sea food. Immerse yourself and groove in the Trans music right from dusk to dawn. Morjim and Ashwem can offer serene and immaculate beaches. South Goa has an entirely different flavor about itself. If you are looking for tranquility and want to relax in the arms of nature, South Goa it is! Enjoy a bike ride on the roads running through lovely farms and lot of greenery around. Get a good tan lying on the tidy beaches amidst a minimal crowd. Have a happy 'me' time!