Don't we all get bored of our monotonous routines? At some point we all need a break in order to enjoy and appreciate life, but living in a city like Delhi makes it almost impossible to find a place which is beautiful and not too crowded. But there's nothing to worry about because we've curated a list of 5 places near Delhi which are perfect for a day spend and are not even crowded.
1. DEATH VALLEY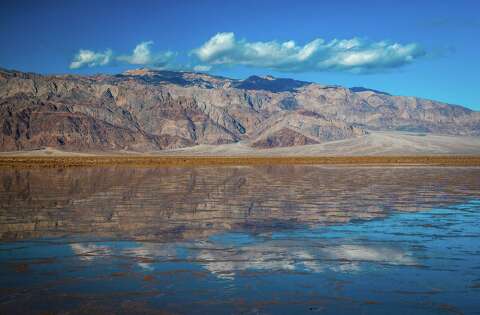 Death Valley, in Surajkund Faridabad, is a collection of 7 former mines, which have been abandoned for so long that they naturally got filled with crystal clear blue water. Being a private property, it has been kept off the radar, but nothing can stay hidden forever, especially when it is such a beautiful lake. This lake is very deep and therefore due to safety reasons swimming is banned. This lake would surely make for an ideal picnic destination. Since this lake is extremely isolated going there alone is not advisable, go in groups and do not wander off too far.
2. NEEMRANA FORT
This beautiful historic fort resort is just a 2hrs drive away from Delhi and is one of the best places for a day spend. This palace was built in the 15th century and now it has been turned into a beautiful resort with 74 rooms and 2 stunning swimming pools. The resort also offers an aurvedic spa which will help you to unwind from all your stress. If you're an adrenaline junkie then you should must try their zip-lining.
3. PRATAPGARH FARMS
Pratapgarh Farms has to be the best place around Delhi NCR to unwind and to spend some quality time with your family. You can dance your heart out to an exciting DJ session or to a  folk dance session. They also offer a ton of indoor and outdoor games which are suitable for every age group. You can indulge in various rural domestic activities and taste the flavours of rural life. You can also test your creative skills while indulging in pottery session and matka painting. The list of activities that this farm offers is endless, so to make the most of your day you better reach Pratapgarh farm early in the morning.
4. WORLDS OF WONDER
If you don't mind the massive tan lines and communal waters, then water parks are a great way to spend a hot summer day! Worlds of Wonder is an amusement and water park. It is one of the best places to enjoy a thrilling yet relaxing day out. Spanning over an enormous area of 10 acres, this park hosts exciting attractions that beguile all its visitors with endless joy and gaiety.
5. FLYBOY AVIATION
Flyboy Aviation offers Flyboy Air Safari in which you can literally fly in a paramotor flight and fulfil your childhood desire of flying. They offer various different packages for you to choose from and the best part is its proximity to Delhi, it's barely an hour long drive from Delhi. You can also plan a surprise for your loved one in their aviation ground, they do flower showers and custom messages on request. So what are you waiting for? Hurry and rush to this place for a perfect adventurous day!