Bangalore is a peppy metro city and the capital city of Karnataka. It is high tech and famed for its parks and nightlife. If you happen to be in Bangalore, don't forget to binge on Nippattu, a kind of namkeen and Mysore Pak of course, a sweet drenched in ghee to melt the moment you put in your mouth. Well, these are the things to satiate your tummy and eyes. But Bangalore has something to satiate your grey matter too, India's only Brain museum. If you are done visiting the malls, the good restaurants, don't forget to satisfy your brain by visiting the NIMHANS Brain Museum!
# Key Attractions About the Museum:
NIMHANS Brain Museum one of its kind in our entire country and can mesmerize one and all. It is gaining popularity as a major tourist attraction where you can dig deep into the grey matter with the help of guided tours that they offer. It is located within the premises of NIMHANS, on the ground floor and managed by the Neuropathology department.  You will be amazed to witness more than 400 specimens of the brain here that have been collected extensively over the past 35 years. Also note that the Museum is open only on Wednesdays and Saturdays, so plan your trip accordingly.
There are species of brains of various patients who have suffered from Schizophrenia, brain mass lesions, stroke, HIV, TBM and even more. You can closely observe and understand how the brain functions and gets affected due to the different types of diseases.  In addition to the human brain, spinal cord and other parenchymal organs displayed. The officials during the guided tours even permit the visitors to touch and feel these organs, an exclusive experience that is appreciated by almost everyone. You will also find several jars containing the brain specimens of different animals like the chicken and the rat!
# The Escalating Popularity of the Museum: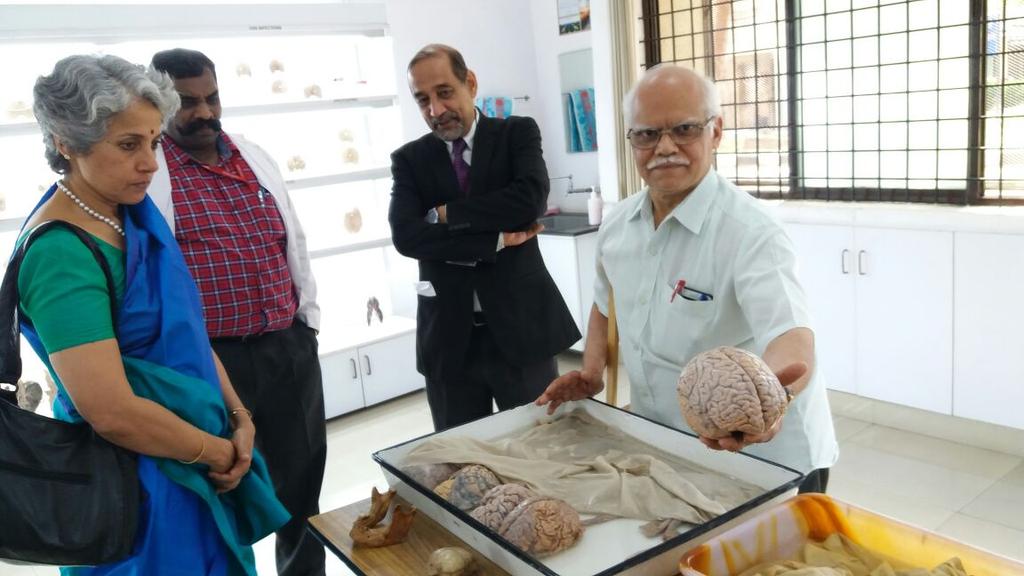 Several foreign scientists and dignitaries, who have come to NIMHANS for scientific collaboration, have also visited the Neuropathology Brain Museum and immensely appreciated their unique collection and the display. It was the last year when students from 33 different colleges visited the museum. The museum keeps a record and digitally displays its visitors for every month which is growing incessantly and was 2803 the last month. Several news channels and esteemed magazines have exclusively covered this museum in their reports.
So, plan a trip to this unconventional and quirky museum. if you have the grey matter to dig deeper into someone else's grey matter!
The NIMHANS Brain Museum is certainly a great choice if you wish to spend some time of your Bangalore trip doing something off the track and gain some insights into one of the most vital organs of our body, the Brain!
Where: Hosur Main Road, Sattar Layout, Lakkasandra, Laljinagar, Wilson Garden, Bangalore
Contact number: 080 2656 3357
Timings: Wed: 2.30 pm to 4.30 pm | Sat: 10.30 am to 12.30 pm and 2.30 pm to 4.30 pm
Entry free!