Are you tired of looking for an off-beat and super fun travel destination this summer vacations? Don't worry we've got you covered. These are the top 5 tree house resorts in India which give you a picturesque view and allow you to breathe in some much needed fresh air.
# The Machan – Lonavla, Maharashtra
This super cool resort allows you to stay 45ft feet above the jungle canopy and experience luxury and nature in a way that no other resort in India offers. The glass walls of their Machans allow you to experience and feel connected to the nature even when you're indoor. You don't have to worry whether you're travelling with your family or solo because they offer 7 types of Machans which suit the needs of every traveller.
Location: Private Road, Atvan, Maharashtra 401401
# Vythiri Resort – Wayanad, Kerala
Vythiri is a small town in the beautiful tourist district of Wayanad in Kerala. It is the perfect summer escape because of its round the year pleasant weather. Vythiri resort offers a variety of rooms, varying from tree houses to pool villas. Whether you're looking for an adventurous holiday or a laid back one, Vythiri is the perfect place to enjoy and explore the beauty of the Indian topical forests.
Location: Lakkidi, Vythiri, Kerala 673576
# Tree House Hideaway – Bandhavgarh, Madhya Pradesh
This Tree House Hideaway in Bandhavgarh should be on the top of your list as it is situated in the heart of Bandhavgarh national park and is also very close to the Panpatha Wildlife Sanctuary. The resort also offers Jungle Safari in 4×4 open Suzuki jeeps which take you deeper in the jungle and if you're lucky then you might even spot a tiger in its natural habitat.
Location: Umaria-Badhavgarh Rd, Vijarhia, Madhya Pradesh 484661
# The Tree House Resort- Jaipur, Rajasthan
The Tree House Resort in Jaipur is the perfect weekend getaway for all the Delhites as it is barely 230kms away from Delhi. The resort is situated on the outskirts of the city and is the perfect place to spend a relaxing holiday. The resort offers not only luxury tree houses for you to stay in, but it also offers over-water suites which are perfect to spend some romantic time.
Location: Nature farms, NH11c, Opp.Amity University, 303002
# Suro Treehouse Resort – Shimla, Himachal Pradesh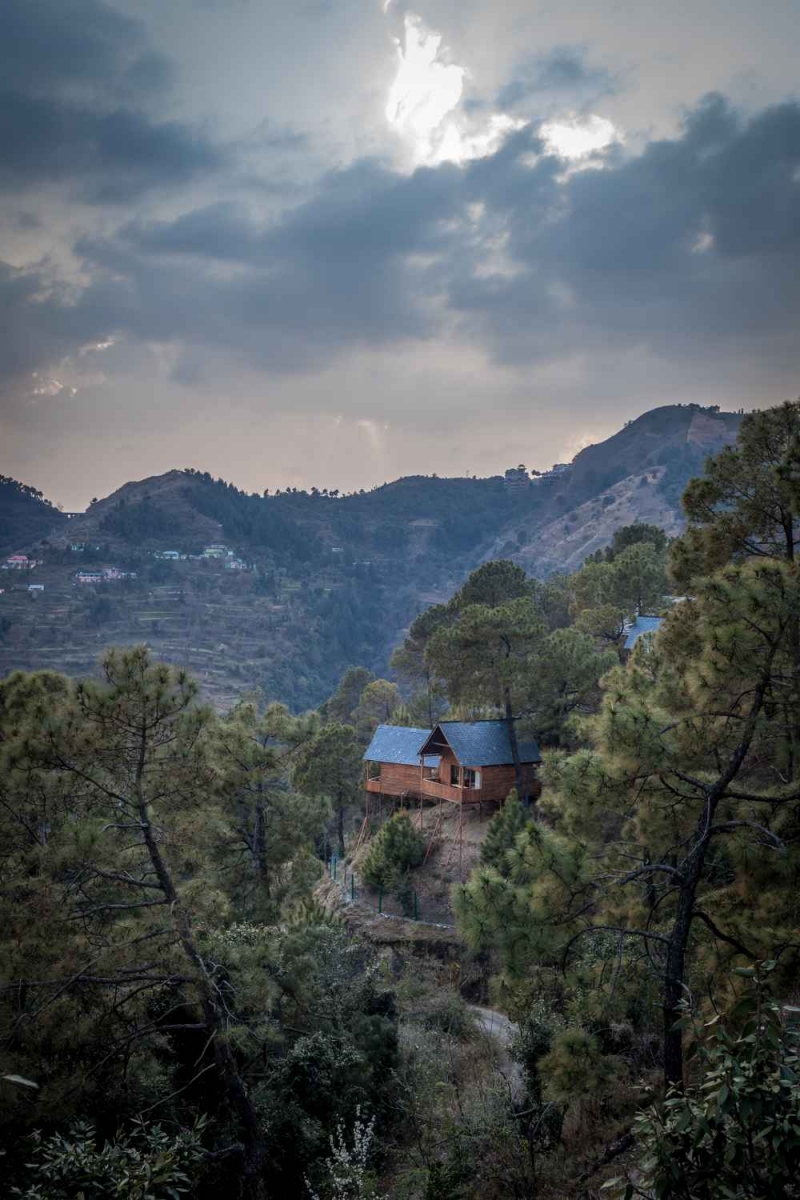 Suro Treehouse Resort is surrounded by thick forest and is situated just 5km away from the Kathleeghat train station. This resort not only offers luxurious tree houses with a view of the beautiful valley, it also offers various adventure activities such as jungle trek, mountain biking and rivulet crossing. So what are you waiting for? Pack your bags and rush to this amazing resort to experience once in a lifetime experience of staying in a tree house.
Location: Village Suro, P.O. Basha, Off NH 22, After Mahalakshmi Furniture, Thana Bhadol – Jangal Shadyal Road, Shimla, Himachal Pradesh 173215