Bollywood latest news is always a favorite section in the newspapers, tabloids and the television channels. The world of Bollywood is glitzy, and their weddings are obviously not an exception. For common people like us, the hefty bucks they spend on invitation cards or the bridal lehengas or their venues make us pop our eyes out. Let us have a look at the Bollywood's most expensive weddings to treat our senses!
# Ranveer Singh and Deepika Padukone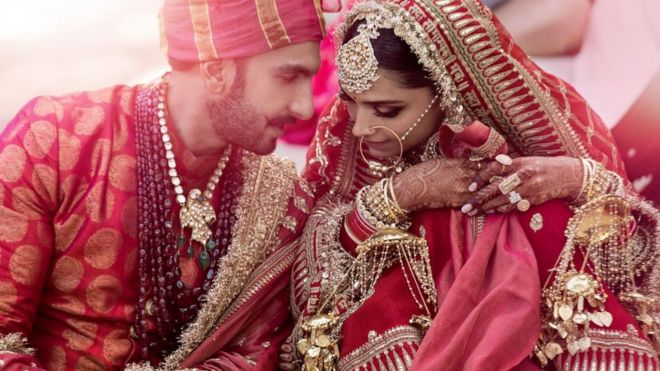 This hottest B-town couple had to top our list of Bollywood's most expensive weddings. The couple tied the knot at a plush venue at Lake Como in Italy on 14th November 2018 . An entire luxury resort in the pretty village of Blevio was booked for their stay. The average cost per day of the room is 400 Euros (INR 33,000). Thus, for the week, Ranveer and Deepika reportedly spent a whopping amount of Rs 1,73,25,000. And nowhere yet have we talked about their other expenses including Deepkia's Sabyasachi lehenga!
# Anushka Sharma and Virat Kohli
Bollywood and Cricket have been sharing a very close bond since ever. Anushka Sharma and Virat Kohli's marriage has taken this bond to the next level. Their wedding pictures and the wedding arrangements that surfaced online took the entire world in awe. The wedding took place at at the Borgo Finocchieto in Tuscany on 11th December 2017, with the maximum capacity of 44 people at the villa. If we talk about the expenses, it costs INR 1 crore to occupy a guest for a week. So, 44 guests count to INR 44 crore spent a week! The wedding attire by none other than Sabyasachi have reportedly cost the duo approx. INR 1 crore.
# Priyanka Chopra and Nick Jonas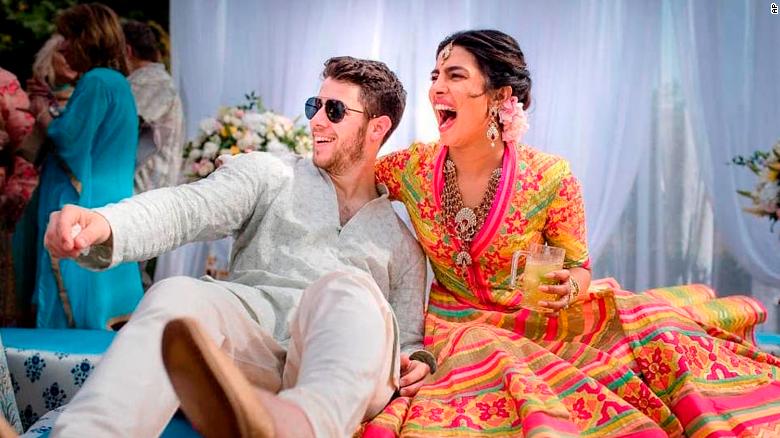 Priyanka is shining bright in Hollywood, but we proudly own her as our Bollywood diva. Her marriage with Nick Jonas made headlines all round the world. The couple got married in Umaid Bhawan Palace, Jodhpur on 1st December 2018. The couple had reportedly booked the entire palace for the weekend to cost them approximately $461,000. (INR 3.2 crore approx.) It is even rumored that the couple's wedding pictures rights were sold for a staggering INR 18 crore.
# Kareena Kapoor and Saif Ali Khan
The 10th Nawab of Pataudi and Kareena Kapoor's nuptial knot process was a celestial event. Although, they resorted to registered marriage in October 2012 for the official process, but their pre-wedding and post wedding functions drove the paparazzi crazy. The most talked about event was the Dawat-e-Walima which was hosted by Sharmila Tagore herself. As per a report by Hindustan Times, Saif and Kareena had booked two five-star hotels in Mumbai for the functions and to put up their guests. The report also claims that a five-star hotel in Gurgaon had been booked with the helipad!
# Shilpa Shetty and Raj Kundra
The wedding of Shilpa Shetty, and London-based businessman, Raj Kundra, was a majestic ceremony for its pompous and unforgettable lavish celebrations. They got married in November 2009 at Bawa's Villa in Khandala. Her engagement ring itself came with a hefty price tag of 3 crore which obviously created a lot of buzz. Also, her wedding lehenga is estimated to cost INR 50 lakhs.
These whopping numbers spent by the Bollywood celebrities are sure to spin our heads. Their world is so extravagant to be beyond the ambit of understanding like common people like us. Although we might never spend even one tenth or even one hundredth of what they spend on their weddings, yet we all love replicating their style in the amount that suits our budget.