Motorola RAZR 2019 is all prepped up for a comeback as per the sources. The rumors got their wings after a report got published in the Wall Street Journal, last month. It indicated that Lenovo (Motorola's owner) is all set to relaunch the iconic model with a twist in the tale. The Motorola RAZR 2019 will reportedly flaunt a flexible display and will take its position in the premium class of smartphones. Based on some previously publicized design registrations, a set of 3D renders have paved their way online, giving us a probable glimpse of the upcoming smartphone.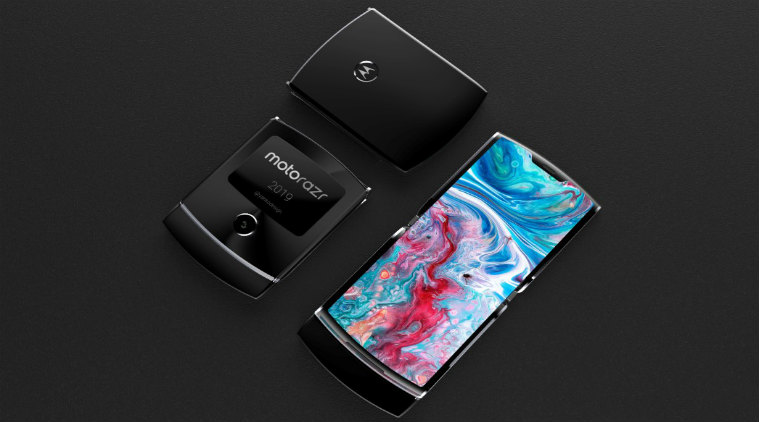 A sneak peeks into the features:
Designer SarangSheth via a website named Yanko Design has produced Motorola RAZR 2019 2019 renders which are based on the patent images of the cellphone. The renders propose that the new version (2019) would sport a more squarish look when folded as compared to its forerunner. The classic Motorola RAZR 2019 hinge can be strikingly seen in the design. The phone will boast its flexible display right from top to bottom after you open it. The hinge existent in the center gets camouflaged after the device is opened because of the foldable display. The foldable screen will reportedly have an aspect ratio of 19:8 with a notch existing right above the screen. Another prominent feature to boast about will be a secondary screen along with a single lens camera escorted by an LED flash on the upper half of its rear casing. It is not yet confirmed whether the screen will support touch or not. The motive of the secondary screen is to notify 'alerts' to the user. The original RAZR model also exhibited a small secondary screen on the exterior side.  The lower half reportedly is fitted with a fingerprint scanner. The power and volume keys have been skipped in these renders as of now. Motorola might include them in the final product.
Début of the elite device:
There have been no official announcements made and we are just banking on the probability that any time soon, maybe next month we will get to witness this high-end legendary smartphone. It is estimated to cost around $1500 approx. in the US market which is more than INR one lakh. Motorola will apparently tie-up with Verizon to sell the device solely in the U.S. It is projected that the company will be producing merely 200,000 units of the Motorola RAZR 2019. It is quite possible that Motorola RAZR 2019 will be welcomed with a huge demand cashing on all the nostalgia of this epic model.