From tracking Polar bears, Arctic fox, and ringed seal to swimming with sea lions, penguins, whales and seals in the Sea of Cortez, the world is full of incredible wildlife adventures that you need to experience at least once. If you are a sucker for animals, you won't want to miss these unforgettable wildlife vacations.
The wonders of nature are spread in the forms of forests, waterfalls, flowering pastures, mountains, rivers and valleys. When wild life enters the beautiful nature, it attracts travelers from far and near. The natural spectrum of wild lands always encourages people to travel the scenic lands. In this way, tourists explore the way to enjoy life from a different angle.
It is said that, the nature hides some of the best secrets in her bosom. Not only travelers but also photographers who love to travel and click wildlife pictures are getting attracted towards the wildlife. The best part of wildlife photography is that it gives you a different vision and perspective of anything and everything that you see.
Following are the best places and wildlife parks which every person must definitely visit:
# Masai Mara National Reserve, Kenya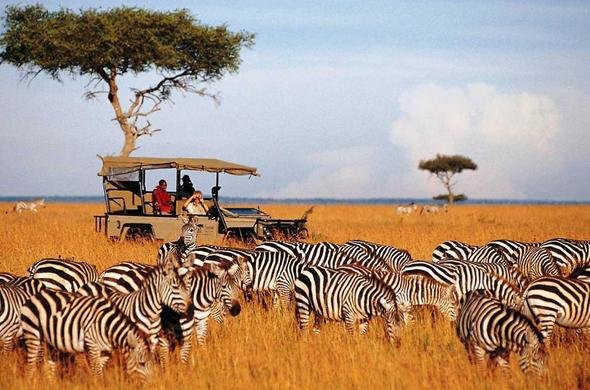 Kenya is a place of most beautiful wild lands and natural parks. Masai Mara National Reserve boasts of Masai lions, African leopards, Tanzanian cheetahs, zebras and Thomson's gazelle. The ideal months for visiting the place are from July to October.
# Volcanoes National Park, Hawaii
In Hawaii, there are many national parks, wildlife sanctuaries and protected areas which attract people from all over the world. Volcanoes National Park is where Kilauea's blistering lava meets the sea. April to September is the best time for visiting. Wildlife tourism not only paves the way for wildlife conservation but also awareness among the people of the country in large scale.
# Denali National Park, Alaska
This place is the majestic landscape.It is situated in Interior Alaska. The park is home to variety of large mammals, birds and other plants and wildlife of the region. The best time to visit this place is between late May and early September.
# Rajaji National Park, Dehradun, India
India is one of the most beautiful countries in the world with respect to wildlife. Rajaji National Park is spread in 1600 square kilometers and is an ideal safari park of India. A large population of leopards, Asian elephants, tigers, reptiles and orthopoda can be easily spotted here.
# Sal Forests, India
India not only has wild lands but is also heavily populated forests rich in biodiversity. Sal forests are a heaven for not only carnivores but also herbivores. If Saal forests re gone, various species of song birds, parrots, woodpecker, wild fowl, water fowl will be vanished away permanently.
These were some of the best places to have a vacation with the wildlife. Parks and sanctuaries always inspire people to explore the wildlands and forest patches. The need of the hour is to work towards the fauna of the country and save them from endangerment as well as extinction.