Tired of a boring weekend? Come be a part of the all new and super-adventurous sport of Rock Climbing at Lado Sarai in its most primitive form! Now you can climb the rocks at Lado Sarai situated on the road of a park which lies between the Saket Metro station and Qutub Minar. The Sunday Rock Climbing at Lado Sarai Sessions are offering an amazing platform for the newbies for taking their first step in the realm of climbing. Each climbing session includes a workshop on the very basics of Rock Climbing at Lado Sarai techniques by certified and experienced professional climbers. The workshop also involves trials on the beginners' level routes. Advanced and intermediate routes are also available for the experienced climbers. You can go through the map for the precise locations of the rocks. Here are all the other details that would help you to plan your rock climbing session.
What to wear?
Avoid jeans and go for comfortable bottoms and tees. Coming to shoes, you can go for any kind of sport shoes. However, PT shoes or climbing shoes are recommended.
How to reach?
You need to reach the rocks via your own personal conveyance. Follow the maps and ask for directions to ease your journey.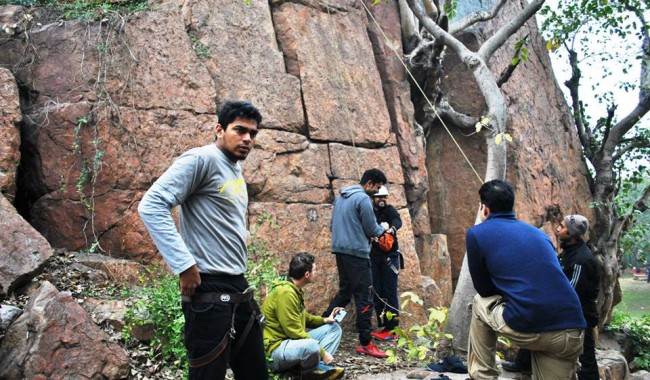 What are the timings?
The rock climbing session begins at 8 AM and goes on till 10 AM.
How much would it cost?
The Rock Climbing at Lado Sarai sessions usually cost Rs 788 per person. Also, don't forget to bring one of your identity cards.
What are you waiting for? Go and start planning your fun filled weekend which is sure to give you one heck of an adrenaline rush!