Summer trends change faster than the Summer Season and if you are a fashion maniac, it would be really hard for you to keep up with the latest styles and trends. Don't worry. We have got you covered. Here are all the Summer Season essentials that you need to conquer the fashion world and to keep your wardrobe updated. Some of these essentials are evergreen and can never go out of style. So here are the Summer Season essentials that you must definitely pile up in your wardrobe to take your fashion game to the next level.
1.A Floral Bikini
If you are a beach babe and are in love with the sea, a floral bikini is all that you need this Summer Season. Floral bikinis are totally in these days and are an absolute essential for flaunting your body and rocking that pool party. Add them into your wardrobes, soak in the glory of summer and let your sexy bikini do the talking.
2. A Shirt Dress
Whether you are out with your gal pals for drinks, going to work or just heading to an eatery for lunch, a shirt dress would be an amazing outfit option.  The elegant yet simple style makes for a perfect choice to make you look effortlessly cool and pretty.
3. Say Hello to Yellow
Yellow is totally in vogue and this summer colour is an absolute must have in your wardrobe. Be it a yellow dress, peppy yellow footwear, handbags or accessories- adding yellow to your over all attire just gives a pop of happy colour and make your vibe very cheerful and happy.  Many people are not a fan of the colour but try it out yourself and don't blame us if you get obsessed with how amazing it'd look on you.
4. A Pair of Paper-Bag Trousers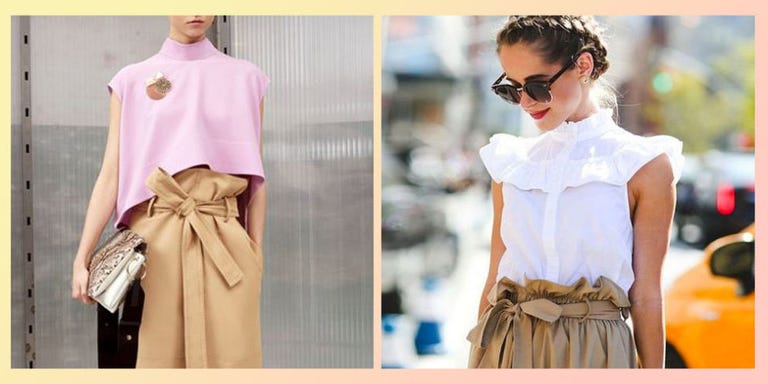 What's a summer without flowy dresses and breezy pants? Paper-bag trousers are all the rage right now and they are just so versatile. Pair it up with a crisp white shirt or a statement blouse and get ready to make heads turn!
5. A Sequined Midi
It's time to get over the miniskirts as this Summer Season; sequined midis are the latest skirt staples. Not only these skirts look flattering and elegant, they make for the perfect outfit option to make you feel comfortable and sexy at the same time. Team them up with flats for a casual look and heels for a more party-like avatar.
6. Pantsuits
Pantsuits look way better than the monotonous office wear that we usually come across. If you want a vintage formal look, then nothing can beat a well-tailoured denim pantsuit. They are an amalgamation of casual, sexy and cool look- all stitched together. If you want to add more colour and prints to your attire, go for a striped pantsuit and you are definitely gonna nail that office going look.
Now that we have told you about all that is in this Summer Season, go, get shopping and come back with a wardrobe that screams elegance and style like no one's business!