If its Sushi in your heart and all over your mind, then… do not waste any time and head off to grab the real scrumdiddlyumptious Sushi in one of these five handpicked Sushi places in Mumbai. You can thank us later for throwing light on these amazing Sushi places, but first pick the nearest one, grab your wallets and get set go!
1. Chimichurri divulges
If Sushi makes your world go around, then this is the apt Sushi place for you. The ambience is pepped up with the beautifully done interiors. You can start your meal with Tempura shrimp Sushi and Cantonese Baos. You can try anything you please from their elaborate menu and you will be enthralled by eating their delicious sushi.
Where: Andheri East, Marol, Mumbai
Time: 11:30 am – 1:00 am
2. Umame
Restaurateur Farrokh Khambata'splush    diningplacecan serve you a variety of great sushi. Go for the Sushi Platter to savor the assorted palate, but ourprizes will go to Barbecued eel in Nitsume sweet soy sauce on the sushi rice andCarpaccico of Hamachi Yellow Tail amberjacksashimi for the piquantflavors. Undoubtedly you will be served with the best of ambience and creative culinary presentation to accentuate your whole dining experience.
Where: Church Gate, Mumbai
Time: 12:30pm – 3:30pm, 7:30pm – 11:30pm
3. Pa paya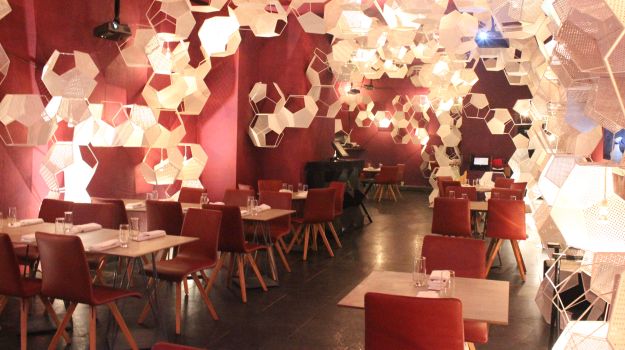 Pa PaYa owned by none other than the Prince of Indian Cuisine, ZorawarKalra, son of legendary Jiggs Kalratakes away the credit of creating a Sushi Milieu in Mumbai at the inception and still indorses its mojo. The Sushi lovers can go gaga over their variations in nigiri, andsashimi served with ample portion size. Try the Sushi Boat to gorge on the assortments.
Where: Lower Parel, Mumbai
Time: 12 noon to 11.45 pm
4. Kofuko
Kofuku is one of the most authentic Sushi places in Mumbai. You enter the place and you will start getting the Japanese vibes. The flavors, presentation and the portion size are just bang on. Also, this place can make the vegetarians happy too with their well curated menu.You can begin with the Sashimi Moriwase and proceed with Spicy tuna on crispy rise cakes. The vegetarians can go for the Chef's special nigiri Sushi platter.
Where: Linking Road, Bandra West, Mumbai
Time: 12 noon to 12 midnight
5. Izumi
Izumi, a great Sushi place which was earlier near the Carter Road continues its legacy of doing justice to the authentic Japanese vibe. They have a well-curated sushi menu with interesting assortments. Their spicy tuna sushi and even the vegetarian sushi like the California tempura roll and the asparagus avocadowill make you drool for more.
Where: Linking road, Bandra West, Mumbai
Time: 12:30pm – 2:30pm, 7pm – 11pm