'Kem cho? Maja ma?' Gujrati people are very simple and sweet to talk to. Their culture is vibrant and so is their food. Most of their delicacies are not too spicy, but delicious and with a hint of sweet just as their language and culture. Check out these 5 Gujarati restaurants for that delectable authentic taste!
1. Gujarat Bhawan Restaurant (Chanakyapuri, New Delhi) 
(Avg cost for two: INR 200) (Time: 7.30 pm to 10 pm)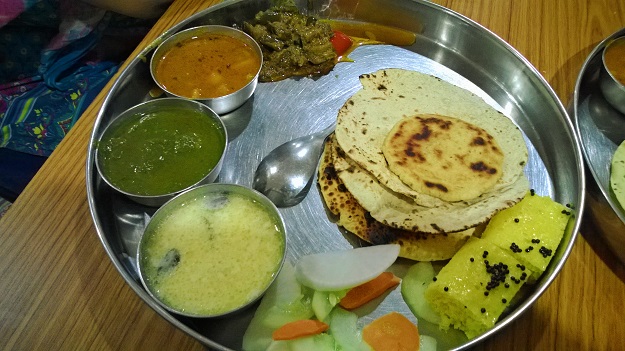 Head to this Gujarati restaurant for the authentic cuisine which is very reasonably priced. You can opt either for their normal or special thali after checking out their menu. You can't get better food than this place to satisfy both your heart and tummy. Obviously do not expect any non-vegetarian food options!
2. Panchavati Gaurav (DLF Cyber City, Gurgaon) 
(Avg cost for two: INR 1000) (Time: 12noon – 3:30pm, 6:30pm – 10:30pm)
Panchavati Gaurav, a Gujarati restaurant is bound to bring a smile to your face as soon as you step in. The ambience is very pleasant, and you will see all polite and smiling faces around who are adept at serving you unlimited scrumptious food in the thali. You will love each and every food item and sure to leave the place with a content heart.
3. Suruchi A Veg Restaurant (Karol Bagh, New Delhi) 
(Avg cost for two: INR 1200) (Time: 11am – 4pm, 7pm – 11pm)
This place has a decent ambience and can serve you mouthwatering food with the authentic Gujarati flavors. All their food dishes are going to leave you wanting for more and more. Try out all the different kinds of rotis that they serve, because you are never going to make them back home, that too with a dollop of pure ghee on the top!
4. Thaal Vaadi (GIP mall, Noida) 
(Avg cost for two: INR 500) ( Time: 12 Noon to 5 PM, 7 PM to 11 PM)
If you are tired with the bag dropping kind of shopping in GIP mall and looking forward to a delectable Gujarati food to your tummy's fill by not burning a hole in your pocket, then 'Thaal Vaadi' it is! Just as the name suggests, expect a lavish meal served in your plate to drive away all your hunger pangs with the best possible taste.
5. Rajdhani Thali (Connaught place, New Delhi) 
(Avg cost for two: INR 950) (Time: 12 Noon to 3:30 PM, 7 PM to 11 PM)
It is one of the most renowned places of Delhi which offers a cozy ambience, a warm welcome and undoubtedly the best Gujarati thali. You can savor the Gujarati menu with an awesome combination of Marwari cuisine as well. This place is sure to satisfy the last bit in your tummy too!
All you there must have sure gotten hungry by now. So why wait? Check which one is closer to your place. Happy gorging!