Padhaaro Maare Desh! It is the flavor, culture and true spirit of Rajasthan. Rajasthani culture can be tagged as on of the most warm and loving cultures of India. If you are the connoisseurs of the Rajasthani palate and are looking forward to some scrumdiddlyumptious 'daal baati churma' served by gracious people with hearty smiles, do not miss on our following list of top 5 Rajasthani restaurants in Delhi/ NCR.
1.Rajasthali 
This is one of the best Rajasthani restaurants in Delhi which can save your trip to Rajasthan to savor those authentic flavors. You will be served with a lavish and served with lots of good food to fill in all the gaps of your thali. The thali is reasonably priced, and you can binge on and on till your recover more than you invested. A must visit place!
Place: Connaught place, New Delhi
Time: 12noon – 3pm, 7pm – 11pm
Avg cost for two: INR 750
2. Rajdhani Thali 
If you again land up in CP and want to try another Rajasthani restaurant, then this is the place. The staff are warm and welcoming, and you can enjoy a cozy ambience. Do not miss tasting any of chutneys as they will best complement the rest of the food. This place is sure to leave your heart, taste buds and tummy totally contented. 
Place: Connaught place, New Delhi 
Time: 12 Noon to 3:30 PM, 7 PM to 11 PM
Avg cost for two: INR 950
3. Thaal Vaadi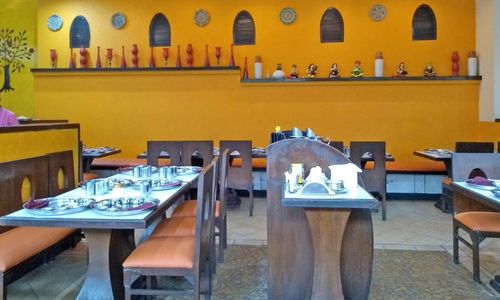 When you are dead dropped tired shopping in GIP and you suddenly realize that you have hunger pangs, just head towards Thaal Vaadi. Just as the name suggests, you will be served a lavish Rajasthani thaali with the best possible taste in this area, that too at a very affordable price. You will regain more energy than what you lost after gorging in this place! 
Place: GIP mall, Noida 
Time: 12 Noon to 5 PM, 7 PM to 11PM
Avg cost for two: INR 500
4. Suruchi A Veg Restaurant 
This is a good Rajasthani restaurant with a decent ambience and can serve you mouthwatering food with the authentic Marwari flavors. The platter will be elaborately laid out with different kinds of rotis garnished with pure ghee, sabji, daal baati churma and buttermilk to help you digest it all.
Place: Karol Bagh, New Delhi
Time: 11am – 4pm, 7pm – 11pm
Avg cost for two: INR 1200
5. Panchavati Gaurav 
Panchavati Gaurav, a Gujarati cum Rajasthani restaurant is bound to make you feel at home as soon as you enter their premises. The setting is very pleasant, and you will see all courteous and smiling faces around. The waiters will lavishly serve you unlimited mouthwatering food and of course daal baati churma steals the show!
Plan a visit to one of these places next weekend itself to enjoy one of the most delicious cuisines of India served in the most lavish and courteous way. You guys can even plan to skip the breakfast and give all justice to your magnifique thali!
Place: DLF Cyber City, Gurgaon
Time: 12noon – 3:30pm, 6:30pm – 10:30pm
Avg cost for two: INR 1000