Many of you out there might be having a penchant for South Indian food. However hard we try, the idli, dosas, sambar, chutneys that we make at home by using any world class masala, is nowhere closer to that authentic drool worthy taste which makes us frantically search for the typical South Indian restaurants. We have made the job easier for you by bucket listing some of the best South Indian restaurants to satiate your hunger pangs!
1. Carnatic Café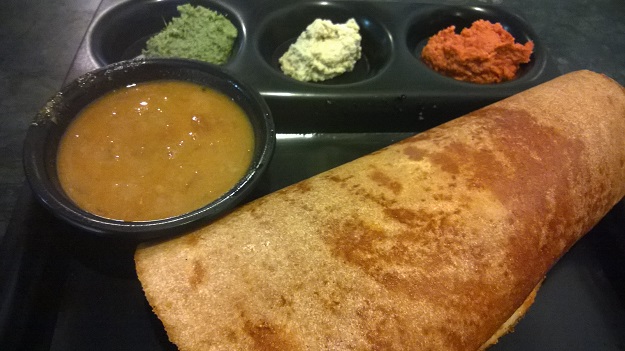 When you take your first step in, you will feel like you have entered some tranquil village in Karnataka. This place can offer you some of the best variations in dosas and needless to say served with some piquant chutneys along with the traditional coconut chutney. Paddu is a must try dish and not to miss, the amazing filter coffee.
Place: New Friends Colony,
New Delhi
Time: 9 am – 10:30 pm
Avg cost for two: INR 500
2. Sarvana Bhavan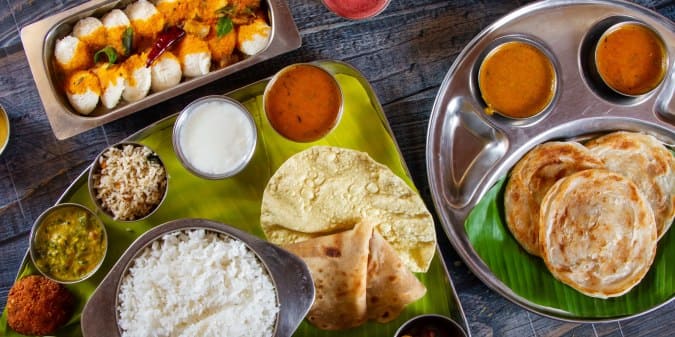 Sarvana Bhavan has etched its name in the list of authentic South Indian restaurants for long. Visit this place for that perfect flavor and aroma and you will not be let down whatever food item you try. You can try out any of their dosas and idli variations and for the bigger appetite go for the thali. Do not leave this palce before binging on Mysore paak, an ambrosial sweet made with pure ghee.
Place: Janpath, New Delhi
Time: 8 am to 10.45 pm
Avg cost for two: INR 500
3. Sankalp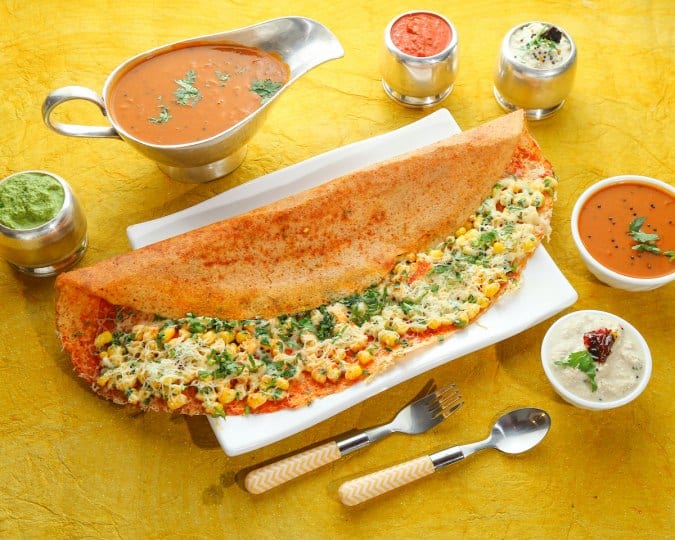 Sankalp is a decent choice for the South Indian cuisine in this area. If you are cynical about hygiene and ambience, this place is sure to impress you. Try their Medu Vada and onion rava dosa in the main course and payasam in the dessert for sure. The portion size is good enough.
Place: Sector 50, Gurgaon
Time: 8 am to 11 pm
Avg cost for two: INR 700
4. Dakshin Sheraton Hotel
This is a plush South Indian restaurant that offers fine dining and a luxurious ambience. You might even come across some of the top government dignitaries in this hush hush place. This place specializes in Chettinad style of cooking but also offers some of the authentic food dishes of Kerala. If you wish to splurge on South Indian food, this is your destination.
Place: Saket, New Delhi
Time:  12:30 pm – 2:45 pm, 7:30 pm – 11:30 pm
Avg cost for two: INR 4000
5. Juggernaut
Juggernaut is the perfect amalgamation of North Indian and South Indian flavors with more South Indian dishes ruling the roost. You can enjoy the medley of flavors like in Cheese Uthappam, although a traditional uthappam but bursting with cheese. The ambience is traditionally pleasant, and the staff is courteous too.
South Indian food dishes are truly palatable and good for the health as well. Spot your nearest South Indian restaurant for a perfect family outing soon!
Place: Kailash colony, New Delhi
Time: 6am to 11 pm
Avg cost for two: INR 600