Month of August is set to arrive in no time! The onset of August will bring along lot of festivities and happiness. We Indians never miss a chance to celebrate a festival as it brings an opportunity for the loved ones to come together and have loads of fun.So, we tend to prep up much in advance. This time also let us make all preps for the merriments as we always do, but with a twist. Let us do it the ecofriendly way!
1. Independence Day
Independence Day for India is a proud day for all of us. It is this day that we feel so patriotic to even wear tricolor clothes, buy tri color sweets, play patriotic songs and buy lot many tricolor flags. We treasure the flags so much on this day, but the next day itself, their disposal becomes a problem. Throwing away is never an option! So, this year buy ecofriendly flags guilt free. You can use them and wear them with pride and later plant them! Superb idea, isn't it? Say no to plastic flags!
Where to buy: https://www.indiamart.com/gift-green-india/indian-flag-eco-friendly-seed-paper.html
2. Rakshabandhan
Rakhi this year is sharing its space with the biggest festival, the Independence Day of India! So, we must leave no stone unturned to make this day even more special. On this occasion, sister ties a 'rakhi' on her brother's wrist which symbolizes their eternal bond. This year opt for the ecofriendly rakhi which will not only signify the bond of protection between a brother and a sister but also the eternal bond of protection towards ourinvaluable nature. Lot many sites are offering these eco-friendlyrakhis. They are made from biodegradable material and contain a seeds which can be planted. On the top of it, these rakhis look really cool and classy.
Where to buy: https://www.bookywooky.in/product/plantable-seed-rakhi-kit/
3. Krishna Janmashtami
No time to slack because next week itself is another grand festival, 'Krishna Janmashtami'! Lord Krishna is loved by one and all, especially the children. This festival involves lot many celebrations including 'dahihandi' or 'makhanhandi', 'gopal kala' – a yummy food dish and various dance and drama enactments which are very popular.So, make this festival eco-friendly by opting for the leaf plates and bowls to distribute the prasadandalso use recyclable decorative articles which can be disposed without causing any damage to environment.
Where to buy:  https://www.ecohindu.com/
4. Ganesh Chaturthi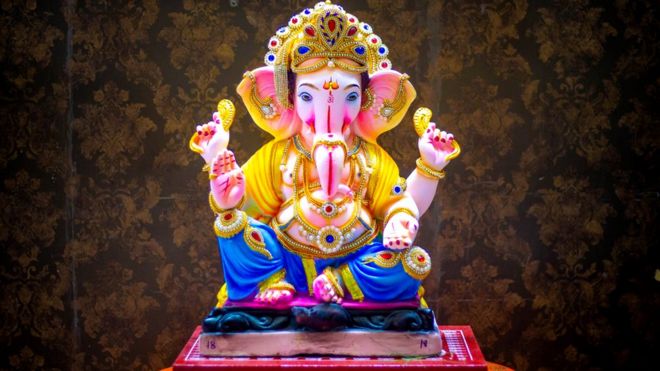 Bid goodbye to August but not to the festivities, because at the onset of next month is another loved festival of India, Ganesh Chaturthi which is celebrated with a great fervor across our country. This is a festival which fosters community feeling and brings people from all backgrounds together to celebrate on a colossal scale. But unfortunately, massive is the clutter once the celebrations are over. This year let us greet our beloved God, the ecological way by buying the eco friendly Ganesh idols and all other decorative items. You can choose to immerse the idol in the own backyard and use the same water for your plants without causing them any harm.
Where to buy: https://www.ecoganesha.org/#!/home.html
It doesn't end here. We must swear that not just these, instead all the festivals must be celebrated with boundlessgusto but in the eco-friendly way! This will not just add up to our own festivity but also ensure equally joyful celebrations for the next generation.