Want to break the clutter surrounding the bland and mundane designs of your footwear? Get quirky and add a dash of envy among your friends and colleagues after you get a pair of custom hand-painted shoes from these brands.
1.Poshampa
Poshampa's foundation was laid in May 2017 when Garima Arya, a Visual Arts graduate from Delhi, converted her passion for quirky fashion into a full-fledged venture. She aims to bring exquisite custom hand-painted shoes within the reach of everyone. Her speciality includes festive as well as traditional designs though she takes bespoke orders too.
Price: Rs. 1,500 -2,000. Click here to buy.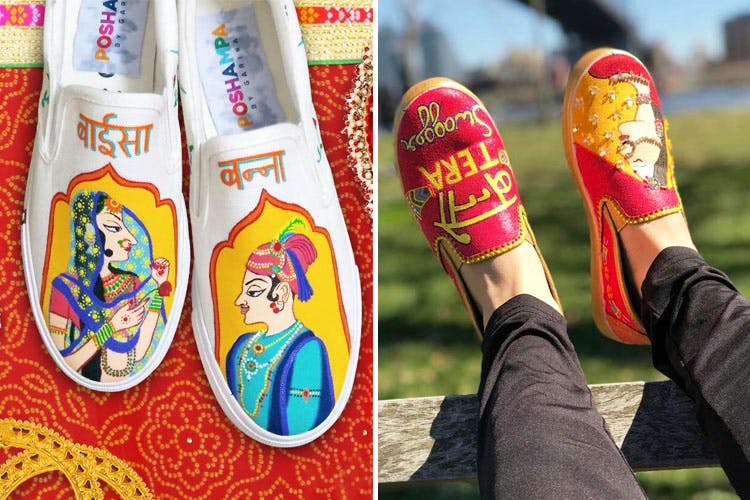 2. LazyJojo
Founder Sanket Aggarwal felt an imminent need to bring some quirk in the 'assembly-line' mode footwear industry. He bootstrapped his startupLazyjojo in 2017 to cater to customers who wanted their shoes to be uniquely printed and not just plain vanilla designs. Its online portal allows patrons to customize their custom hand-painted shoes with a range of colour and design options – ranging from Bollywood, music, travel to sports and romantic themes.
Price: Rs. 1,600 -1,800. Click here to buy.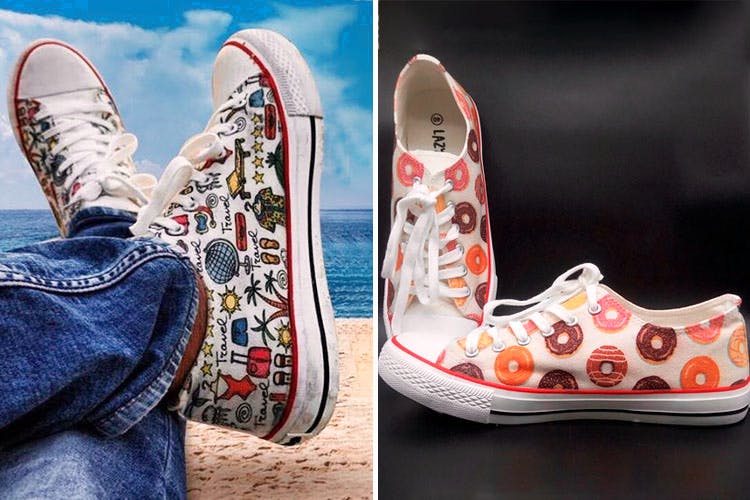 3. Che by Chaitanya Dixit
Chaitanya, whose claim to fame includes designing shoes for superstar Ranbir Kapoor, has collaborated with footwear brands like Puma and Reebok for custom hand-painted shoes their designs. Currently taking orders through his Instagram handle, Che caters to a variety of budgets and design choices.
Price: Rs. 3,000 – 9,000. Click here to buy.
4. Shoes Your Daddy
From lace-ups to high ankles to slip-ons, Shoes Your Daddy customizes funky designs on comfortable shoes to give you that unique look to standout in every outing. Customers can upload their favourite designs and they will paint it exactly the same way on a custom hand-painted shoes sneaker.
Price: Rs. 2,000 – 5,000. Click here to buy.
5. Mana Custom Art
Mana Santhanam channelized her love for eccentric art to create one-of-its kind style of footwear. She can be contacted over her Facebook page where you can provide your ideas and she will bring it to reality. There are variety of designs on her page in case you are unable to narrow down on your own design. In her spare time, Mana also conducts design workshops.
Price: Custom. Click here to buy.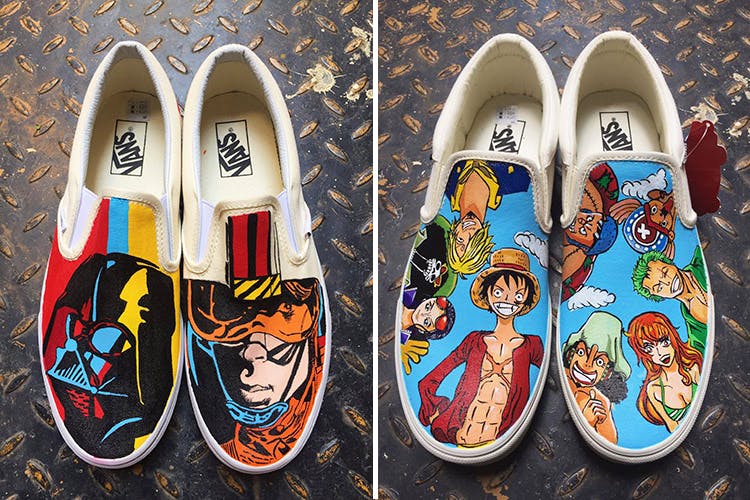 6. Sneakaboo
This venture specializes in customizing accessories like handbags, wallets apart from shoes. The designs are fresh and would definitely add a spunk to your daily routine, apart from attracting a lot of eyeballs all around.
Price: Rs. 1,500-3,000. Click here to buy.
7. Punk Shoes
One of the new ones on the circuit, Punk Shoes is a Jammu-based custom designer of shoes, wallets, bags and other accessories. They are currently accepting orders from their Facebook and Instagram handles. Using high-grade waterproof paints, the custom hand-painted shoes will leave a long lasting impression on your minds.
Price: Rs. 1,500-3,000. Click here to buy.
8. Al Artz
Alisha Bhasin, the founder of Al Artz, is a designer who can add a dash of colour to anything you can think of – custom hand-painted shoes, wall frames, jackets and accessories as well as home décor. Her Instagram handle gives you an idea of the immense creativity of her work.
Price: Rs. 1,500-2,000. Click here to buy.